ORGANIC GARDEN PLOTS
The plot fees are $120 for a full-size plot (20 feet x 40 feet) and $75 for a half-size plot ( 20 feet x 20 feet). This fee includes the tilling of the garden by the El Paso County Parks Department in the early spring, the cost of water for the gardening season, and all other repair and maintenance expenses.
First time gardeners are charged a $25 clean-up deposit. The deposit is refunded if the plot is cleaned off completely at the end of the gardening season.
Located on two acres in Bear Creek Park, and run by the Bear Creek Garden Association, the Charmaine Nymann Community Garden consists of 104 full size plots. The garden is surrounded by a five-foot high fence with seven gates. An underground network of water pipes delivers city water to faucets located adjacent to each group of four plots.
"A GARDEN EXPERIENCE" - FILM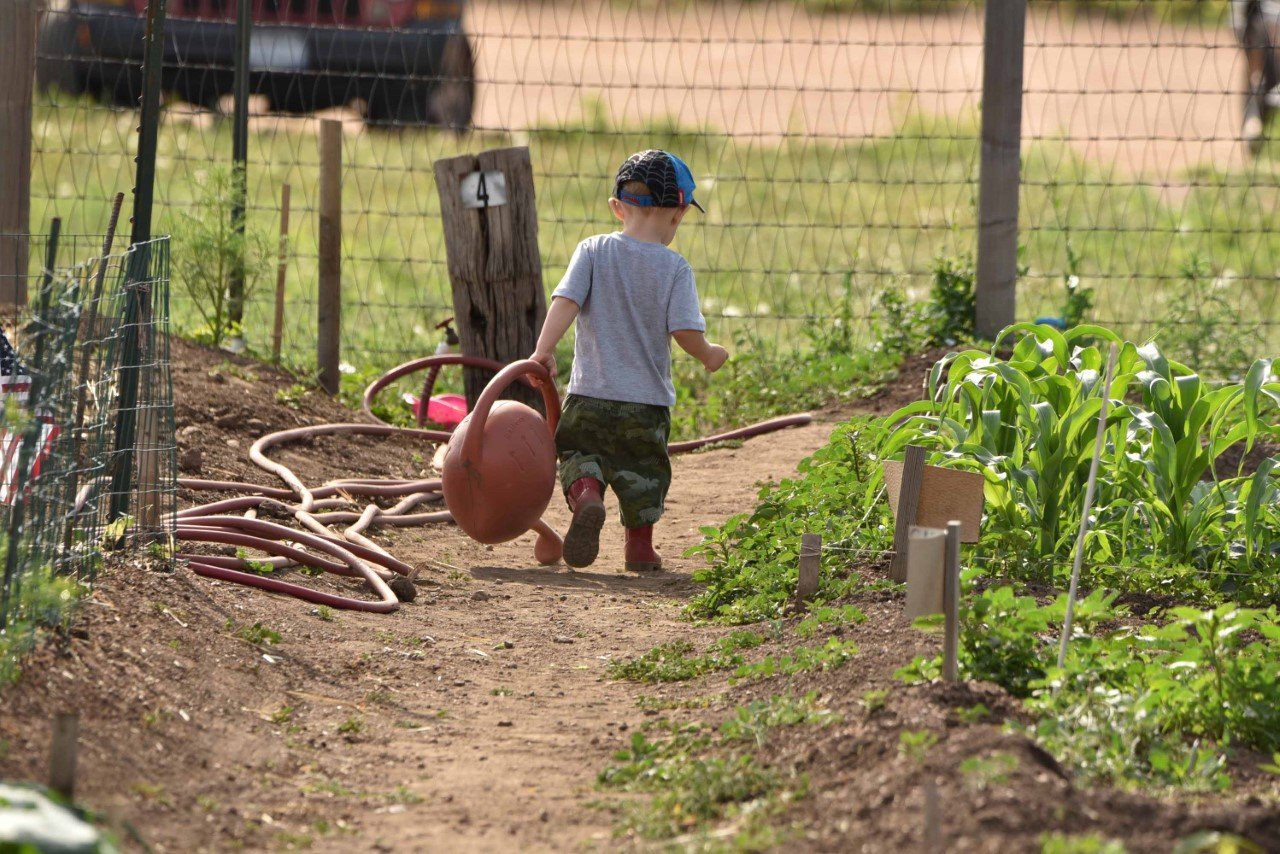 "A Garden Experience - Growing Organic" is a 30-minute film about the Charmaine Nymann Community Garden made by local filmmakers Nancy Bentley and John Atkinson, with original music by George Ulrich. The film was released in November, 2018 and has been shown at several film festivals in the US and abroad. Watch it (free for Amazon Prime members and $1.99 for non-members) at Film at Amazon. Alternatively, a DVD of the film can be purchased for $20.00 from the distributor, Chip Taylor Communications: https://www.chiptaylor.com.
GARDENING GUIDELINES
In Cooperation with El Paso County Parks, BCGA has established rules and guidelines for each gardener to follow. Click Bear Creek Garden Association Rules to download and print for your reference.
REQUIRED FORMS
Application: Interested in renting a plot? An application may be obtained by calling Todd Hegert at (719) 329-8873.
Unconditional Release: Each gardener must include a signed and notarized Unconditional Release Form when submitting an application for a plot. Click Unconditional Release to download and print. Each adult who will be helping a plot owner or doing any sort of garden work must also have an Unconditional Release on file with BCGA before being permitted to work in the garden.
PLEASE NOTIFY THE BEAR CREEK GARDEN ASSOCIATION BY SENDING AN EMAIL TO [email protected] WHEN:
You will be gone more than 2 weeks
You have to give up gardening and abandon your plot
You need advice for weed or bug control
You find a leak in the water system
The gates have been left unlocked
You need a new key or badge
You have a new person helping you with your plot
You see a job in the garden that you are qualified to help with!
CONTACT THE COLORADO SPRINGS POLICE DEPARTMENT (444-7000 OR 911):
if you see anything that is dangerous or threatening to you in the park. We encourage you to work in the garden only when another gardener is present and only during daylight hours.
CALENDAR
Annual dates for classes, opening and closing days, work days, and other events are posted on an Annual Calendar for your reference.
EDUCATION
To kick off the gardening season, each year in March a public class on Organic Vegetable Gardening is taught by experienced Bear Creek gardeners at the Bear Creek Nature Center as part of its Sustainability Series. For more information about this class, visit www.elpasocountynaturecenters.com or call 520-6387.
In mid-April before the garden opens, new gardeners attend a detailed orientation class. Gardeners are given the Bear Creek Garden Handbook, compiled over the years by many of the gardeners. (See link on the home page of this site.)
Click Colorado State University Extension website for a wealth of information about planting and garden care:
Soil Amendments
Growing plants from seed.
Powdery Mildew
Onion Leaf Blight
Tomato problems
And much much more!
VOLUNTEER HOURS
Gardeners are required to do a minimum of four hours of volunteer work per gardening season. The volunteer tasks involved include helping to stake out the garden in the spring, caring for donation plots, cleaning up neglected or vacant plots, weeding in areas outside the garden fence, repairs, fundraising promotion and outreach to publicize the garden in the community and other manual labor or clerical tasks.
PLOT CLEANUP
The entire garden must be down to bare dirt by 6:00 p.m. on Closing Day in mid-October. Gardeners are responsible for their plots and also for the aisles around their plots. All heavy materials, including cornstalks and heavy roots such as broccoli and cabbage, and all vines, including cucumber, tomato, squash and pumpkin, must be removed and placed in the dumpsters. All green growing plants must be pulled up. Small litter, including straw and Garden Mix, may be left on the plot and will be tilled in by the Parks Department after the garden closes.
ROTOTILLERS
The Parks Department tills the entire garden before opening day in the spring and after closing day in the fall. Gardeners may bring in rototillers to work soil amendments into their plots during the growing season if they wish to do so.
GARDENING TOOLS
Please do not leave tools or equipment on plots overnight, as this violates the agreement between the garden association and the El Paso County Parks Department. Hoses and one watering can may be stored neatly on individual plots for the entire gardening season.
WORKDAYS
Monthly workdays, supervised by Board members, are scheduled during the gardening season and extra workdays are scheduled in October to facilitate garden cleanup. The organized workdays are the best time for gardeners to complete their 4 hour minimum volunteer work obligation.
GARDEN MIX
Each fall before the garden closes, gardeners planning to return for the following season can place orders for a special blend of compost and manure known as Garden Mix to be applied in the fall as a soil amendment. One cubic yard per full-sized plot is recommended. Gardeners must order and pay for Garden Mix before the payment deadline and must provide a clear space on their plots where the skid loader can deliver the amount they have ordered. Gardeners are not required to order Garden Mix.
The Garden Mix will be delivered to the area inside the Truck Gate and will then be carried to individual plots by a Parks Department worker using a skid loader. Garden Mix is a soil amendment prepared by Don's Garden Shop.
DUMPSTERS
Two dumpsters will be provided from Labor Day weekend until the garden closes. They will be located in the north parking lot near the two main gates. These are explicitly for the refuse you remove from your plot. When a dumpster is full, do not pile refuse around it; the trash removal company will not pick up refuse on the ground. Instead, consider bagging your refuse, keeping it on your plot until the dumpsters have been emptied and then putting it in. While the dumpsters are available until closing day, it is wise to get your plot cleaned early and your refuse into an available dumpster, as things tend to get backed up in the last ten days before closing.
GARDEN LOCKED FOR WINTER
The garden gates are locked with "winter locks" after the closing day. Gardeners should discard their summer keys after the garden closes because they will not work in the winter locks. New locks and keys are purchased each spring for the upcoming garden season.